Economic and Capital Market Outlook 2023
December 8, 2022 @ 12:00 pm

-

5:30 pm

Rp500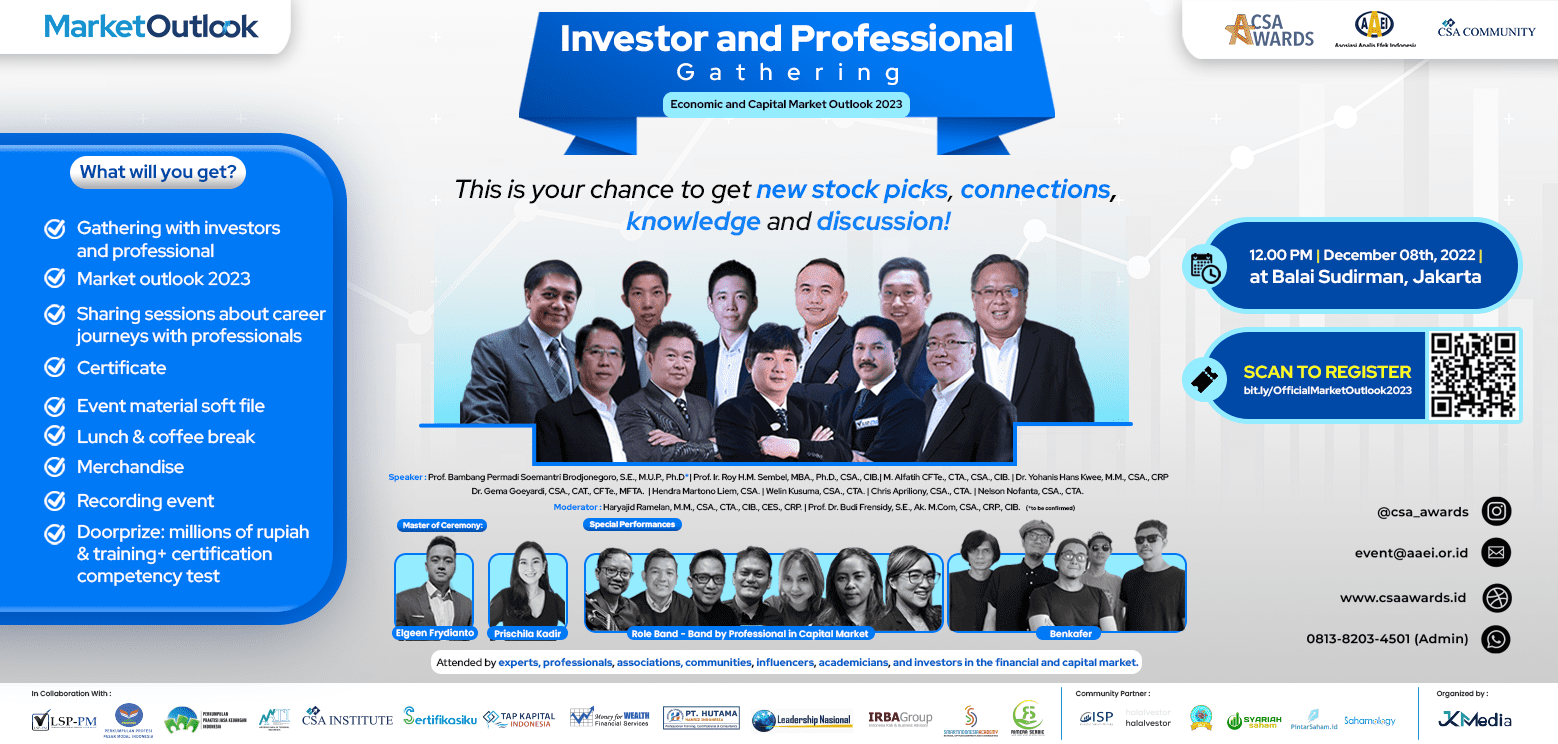 Asosiasi Analis Efek Indonesia dan  CSA Community bekerja sama dengan stakeholder di pasar modal menyelenggarakan kegiatan Economic and Capital Market Outlook 2023 dengan tema Tantangan dan Kesiapan Industri – Investasi Hadapi Ketidakpastian Ekonomi Global 2023 yang akan diselenggarakan pada Kamis, 8 Desember di Balai Sudirman Jakarta.
Economic and Capital Market Outlook 2023 merupakan kegiatan yang memberikan gambaran dan rangkuman analisis terkait kondisi ekonomi global, nasional, dan kondisi pasar modal Indonesia untuk satu tahun ke depan. Rangkaian kegiatan berupa Diskusi Panel Market Outlook 2023 yang akan menghadirkan para profesional di bidang ekonomi dan pasar modal, diantaranya:
Prof. Bambang Permadi Soemantri Brodjonegoro, S.E., M.U.P., Ph.D*),

Dr. Yohanis Hans Kwee, M.M., CSA., CRP, 

Prof. Ir. Roy H.M. Sembel, MBA., Ph.D., CSA., CIB,

M. Alfatih CFTe., CTA., CSA., CIB,

Prof. Dr. Budi Frensidy, SE, Ak, MCom, CSA, CRP, CFP, CIB, CWM, ACPA dan;

Haryajid Ramelan, M.M.,CSA.,CTA.,CIB.,CES.,CRP
Selain itu, akan ada Sharing Session for Professional In Financial & Capital Market yang akan menghadirkan sosok inspiratif diantaranya:
Dr. Gema Goeyardi, CSA., CAT., CFTe., MFTA. (Founder & CEO Astronacci International, Penasehat Senior Kepala Staf Presiden bidang Ekonomi)

Welin Kusuma, CSA., CTA. (41 Academic and Professional Degrees Holder),

Chris Apriliony, CSA., CTA (Branch Manager Jasa Utama Capital Sekuritas),

Nelson Nofanta, CSA., CTA. (Founder of Cuan Bareng Koko) ,

Hendra Martono Liem, CSA. (VP Brokerage Strategic Development at PT Henan Putihrai) 
Dengan mendaftar acara ini Anda juga telah berkontribusi dalam membantu korban bencana gempa bumi di Cianjur pada setiap pembelian tiketnya.
Economic and Capital Market Outlook 2023